NAVSTA Great Lakes - Recruit Division Apparel
Recruit Division Apparel
A great way to show support for your recruit while they complete their mission at the Navy's only boot camp - wear their division apparel!

Apparel artwork is unique and is hand-drawn by recruits in their division. It is created as a symbol for the flag that the division proudly carries during their eight weeks at the Recruit Training Command. This artwork has been digitally enhanced and is now available for a keepsake/souvenir to wear with pride. Division apparel items include short sleeve T-shirts, long sleeve T-shirts and hoodie sweatshirts that range in size from small to 3X. Items available on this web store are organized by year and division number.

A portion of sales goes back to support your graduate's recreation fund through the Morale, Welfare & Recreation Department at the Naval Station Great Lakes.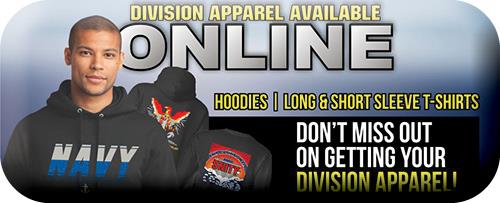 PLEASE NOTE: Starting July 1, 2022 prices will increase due to the rising costs from our suppliers. We appreciate your interest in our products and your continued support to our past, present and future Sailors!
Division apparel will be up for 6 months from your graduates PIR date.
To order Division Apparel, go to https://bit.ly/RTCapparel

Email your questions or concerns to grlkmwrwebstore@us.navy.mil
Please write RTC Apparel in the subject line.